---
Presidents Award for Excellence in the Public Sector
Kathryn Medlock

– Senior Curator (Vertebrate Zoology), Tasmanian Museum and Art Gallery 
Kathryn received this award in recognition of her service as a member of the zoology team at TMAG over 35 years.
During this time, Kathryn displayed dedication in capturing information on, and sharing, the state's thylacine specimens, in particular.
As part of her work researching, documenting and curating these important pieces, Kathryn was awarded a Churchill Fellowship and travelled the world to track down all the specimens of the thylacine that had been sent abroad to other museums.
Kathryn's work leaves a strong legacy and is a reflection of her excellence and long term dedication to the public service and the community in recording, researching and preserving these important, and uniquely Tasmanian, pieces.
---
Public Sector Professional of the Year

 
Alison Lovell – Senior Statistical Analyst, Australian Bureau of Statistics 
Alison Lovell of the Australian Bureau of Statistics Hobart Office, received her award after a dual nomination from senior staff in her office. They wanted to recognise her commitment to the ABS Hobart office and to building an inclusive and high performing workplace culture.
Some of the key contributions and strengths noted were Alison's drive, leadership and personal courage, particularly in the areas of promoting mental health awareness and support.
Highlighted was Alison's effective and considered approach to delivering outcomes, which were achieved through her efforts to collaborate, to excellence, and to contributing to and building her team and the public sector more broadly.
It is evident that Alison's team is aware of, and appreciate, the contribution she makes.
---
Public Sector Young Professional of the Year
Harpreet Gill – Global Education Marketing Officer, Department of State Growth 
Harpreet is the winner of this award due to her commitment to the public service and achieving outcomes for the community through her role as Global Education Marketing Officer.
Harpreet's commitment to her team as well as pursuing her own further professional development and self-improvement were emphasised in the nomination received.
Harpreet is also recognised for her calm and adaptable approach, which has supported the delivery of outcomes, while also displaying excellent judgement and professionalism.
---
Contribution to Community
(previously known as Best Practice in the Public Sector) 
---
Tasmanian Emergency Services Computer Aided Dispatch Project or ESCAD project – Department of Police, Fire and Emergency Management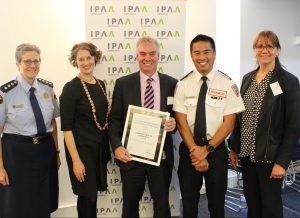 Commencing in 2014, this collaborative, extensive and challenging project has successfully established a common CAD (computer aided dispatch) system for Tasmania's emergency services.
This award is in recognition of the stamina, patience and dedication involved to deliver this critical project, which brings together our emergency services, and their varying systems, processes and protocols to establish the ESCAD.
The project team demonstrated collaboration, dedication, and professionalism to deliver an excellent community outcome.
Despite the long and challenging nature of the project, the nomination noted that 95 per cent of project outcomes were delivered, which is an outstanding result given the opportunity for scope and expectation creep over given the complexity, and term of the project.
---
Libraries Tasmania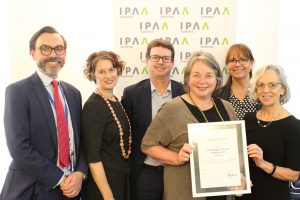 Libraries Tasmania has an important role in providing critical hard and soft infrastructure, services and resources to our community.
In addition to acknowledging the importance of the services and role Libraries Tasmania offer in bringing our communities together, the award for 2019 is specifically to recognise the organisation's strong engagement and uplift in membership this year. This demonstrates Libraries Tasmania are not just opening the doors, the team are working hard to invite people in, and it is working.
Libraries Tasmania have reported an increase in participation – up by 10 per cent, and reversing a trend of previously reported membership decline
They have also achieved a staggering 93.4 per cent client satisfaction rating, reflecting the engagement and impact they are achieving.
Another measure demonstrating their success in providing engaging, accessible and useful services, is the huge number of volunteers reported – 800, twice the number of its employees.
---
See it. Dream it. Do it. Project – Department of Primary Industries, Parks, Water and Environment
This program has seen the agency take its work to champion gender equality and engagement outside of the department to directly reach and engage with school-aged members of our community.
The program seeks to overcome stereotypes and to help women and young women to be inspired and open to consider working in the department's many roles. It is focused on changing mindsets in the community and while it in its early stages, the nomination highlighted that the 'See it' element of the program is being well delivered, supported by a schedule of on the ground engagement in 2019.
---
Ms Ann Owen – Registrar, Births, Deaths and Marriages, Department of Justice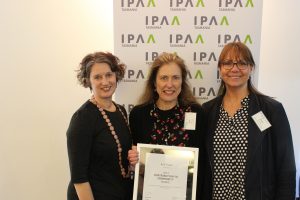 This award is to recognise Ann's work to:
delivery through excellence and with integrity

provide inclusive services to the community.
The nomination received for Ann highlighted her focused and inclusive approach, both within her team and supporting their development, and with clients.
Ann has demonstrated excellence in working to deliver inclusive services, and quality outcomes for the community in her capacity as Registrar.