"Keep them coming, I thoroughly enjoyed it. Great networking opportunity and I appreciated the senior leaders attending and encouraging others to participate"
IPAA Connections is a series of events providing the opportunity for members to connect with their peers and senior executives and interact with a guest speaker on a topic of interest to those forming their public sector career. This is a key initiative under IPAA Tasmania's aim of increasing the value to individual members and in particular our engagement with young professionals/emerging leaders across the public sector.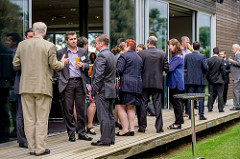 These events are held in an informal venue to encourage interaction and discussion. The speaker talks for approximately 30 minutes and then a member of IPAA Council facilitates a discussion, including questions from the floor. The topic is generally around the speaker's career story or a particular project or issue of interest to our members.
"Good casual atmosphere which encourages interaction"
IPAA Connections are free of charge. They are open to personal members and we encourage you to bring a guest to share the experience. Corporate members are also invited to register a senior executive and up to five young professionals. This provides a great opportunity for Executives to engage with young professionals from their agency and across the sector in an informal setting, and encourage them to be actively involved in their profession.
Previous IPAA Connections speakers include: